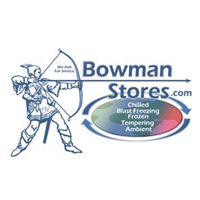 Distribution & Logistics
Bowmans Stores Spalding caters for long or short term temperature controlled storage, order collation, QA inspection and temperature controlled store hire.
About T.F. Bowman + Son
TF Bowman & Son are a family business established over 50 years ago in Spalding, together they carry a wealth of experience originating from horticulture with glasshouse production of flowers and tomatoes started by Mr & Mrs Tom Bowman. Over the years, Peter's strong influence and enthusiasm increased the offering to include field crops with large-scale daffodil production, vegetables and cereals.

From the 1970's Peter specialised in onion production and increased the growing to 650 acres across three counties until the end of the 90's where due to onion production costs remaining high with a good return not guaranteed, the decision was taken to stop. Following this, Peter converted existing buildings and refurbished to an extremely high standard for refrigerated storage. The local council granted a licence for the storage of meat, fish and dairy products. Bowmans was the only non-manufacturing business in South Lincolnshire to be granted such a licence.
Local companies expressed greater interest in what Peter was doing so that by the end of 2005 he and his staff had refurbished or constructed a further 18 stores and 21 loading bays - the site became much more user friendly and able to cope with a large volume of goods vehicles particularly during peak times.
Since then, we have progressed and developed even further and even introduced new services such as Blast Freezing, Frozen Storage and Controlled Tempering (thawing). All of which have been developed adjacent to the existing site so that the whole business operates from a much larger site.
Our upcoming event
International Trade Operations and Procedures (ITOPS) Training
ITOPS is a certified course tackling all aspects of international trade administration.