Loven Patents and Trademarks Limited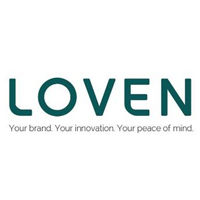 Legal
Professional Lincolnshire firm of Patent & Trademark Attorneys. We specialise in protecting & enforcing intellectual property rights.
About Loven Patents and Trademarks Limited
Loven Patents and Trademarks Limited are a professional UK firm of Chartered Patent & European Trademark Attorneys, specialising in protecting & enforcing intellectual property rights.

Protecting your brand and your ideas are vitally important to the success of your business. Our expertise and years of knowledge in patents, trademarks and registered designs allows us to lock that success in place and help you grow your business.
We are your professional firm of Chartered Patent Attorneys and European Trademark Attorneys who can offer your business the legal expertise and experience to advise you on this complex but critical area of law. We have a network of overseas Associates around the world enabling us to assist our clients to protect and enforce their intellectual property (IP) rights in all of their international markets.
You will find details of all our services, as well as useful free advice and guidance, on our website.
Our upcoming event
Virtual Lincolnshire Construction and Property Network August
Digital networking event for the construction and property industry.