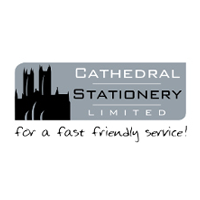 Retail Online
Cathedral Stationery Limited based in Lincoln offer the broadest range of office products available including printer supplies, computing and furniture.
About Cathedral Stationery Ltd
We offer the broadest range of office products available.

We bring you the very latest office supplies at great prices with fantastic next day service.

We offer only the best prices and products on stationery, furniture, books and pads, business machines, computer accessories, desktop filing, facilities management, filing & document storage, office essentials, packaging & envelopes, paper, presentation and conference supplies, printer supplies and writing supplies … and that's just the start.

Our site is tailored to fit your needs so make the most of us and what we can provide you with. Below you will find a list of brands stocked on our site.
Our Mission
Cathedral Stationery Limited - For a Fast Friendly Service!
Our upcoming event
ChamberConnect: How to Have Difficult Conversations Workshop
Free workshop presented by Phil Hutchinson of Lantern. Learn to communicate more effectively.