Cartwright Communications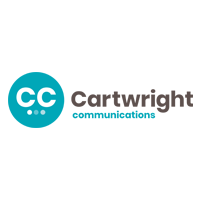 Marketing PR & Advertising
Cartwright Communications is a team of experts grounded in journalism, creating PR and communication strategies with offices in Nottingham and Lincoln.
About Cartwright Communications
Cartwright Communications in Nottingham and Lincoln offers complete PR and marketing solutions that put you in front of the right audience. We're strategists; advising and consulting on the most effective tactics to get the best results within a hardworking budget.
Media Relations - With its roots in journalism, Cartwright Communications creates compelling content for any communication channel.
Social Media, Digital, & Video
- Whether online or in print, content needs to be fresh and engaging. Our strategies attract the right audience and generate behaviour that's right for your brand.
Event Management
- We thrive on the pressure of a live event; from restaurant launches and exhibition openings, to managing county shows and festivals.
Internal Communications - Helping you to paint your business in the best light and expertly manage internal communications.

Crisis Communications
- Being ready and sensitively handling a potential crisis situation can save your brand from irreparable damage.
Branding & Design
- We work with talented creative teams to cut through the clutter and deliver real impact.
Our upcoming event
ChamberConnect: QES Q2 Briefing
The QES results are the first major comparison since COVID began.