Lincolnshire Chamber of Commerce support the work currently being undertaken by Lincolnshire County Council to promote economic ties between Hunan Province and Lincolnshire. This resource aims to provide more information about the links and opportunities that our business community could benefit from.
Councillor Davie and Mr Kenin Wang, Deputy Director of Standing Committee of Hunan Provincial People's Congress, have signed the agreement which saw Lincolnshire formally become sister regions with Hunan.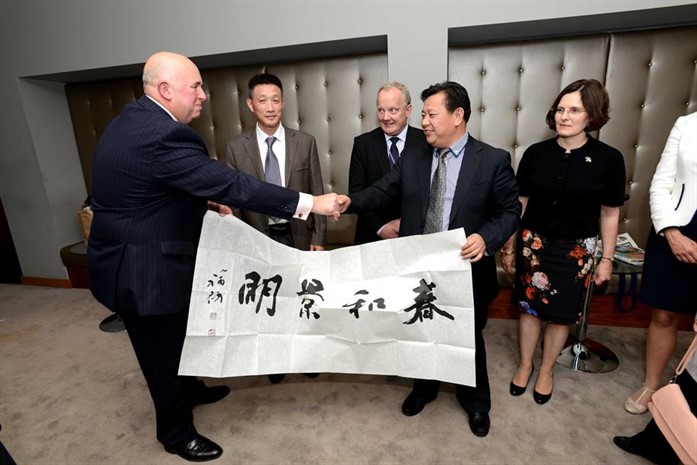 Introducing Hunan
Hunan is China's 7th largest province (out of 34), situated in southern central China. With a population of 67 million, its population is approximately the same as the UK, and its GDP of $470 billion, is the equivalent to Norway and Morocco's GDP combined.
The province of Hunan as we know it today was established in the 17th century, and was well connected to the rest of China given its position along the Yangzi River. Hunan has a rich cultural, economic and political history. Hunan was one of the most important centres for Confucian thought, one of China's three schools of thought. It also was one of the most agricultural regions in China, and saw its population flourish from its production of wheat. It also has a turbulent political history, playing host to many important rebellions, including the Taiping rebellion and was widely involved during the Cultural Revolution. The latter was due largely to the fact that Hunan is the home province of Mao Zedong (Chairman Mao), which has resulted in it being regarded as being the birthplace of modern-day China.
China often delivers development strategies on a five-year basis, and the same happens on a local level. Hunan's Five-Year Plan, launched in 2016, has a strong focus on developing a prosperous society, paying attention to its position regionally in China, and with developing trade relations with other countries. The key tenets of the Five-Year Plan include innovation, agricultural modernisation and sharing knowledge and resources.
The Strategy
The main areas of focus for Lincolnshire with Hunan have been identified as having the ability to bring economic benefit to the County. These have drawn upon Lincolnshire's own strengths and Hunan's Five-Year Plan.
Partnership Approach
The objective of the strategy is to support growth in the local Lincolnshire economy. It is therefore crucial that organisations in Lincolnshire are engaged with the strategy and feel that it is working for them.
Regional Focus
Developing the regional relationship with Hunan will give Lincolnshire businesses a unique footstep into China.
Economic Focus
Lincolnshire's priority is to support local organisations leverage trade and investment opportunities from China and to attract more people from China to visit the County.
Advanced Manufacturing
The establishment of the Dynex-CRRC relationship was the catalyst which brought Hunan and Lincolnshire together. Furthering the two regions cooperation in this area will be a significant aspect of future relations.
The Priority Sectors
Given Hunan's size, Hunan's interests will be diverse and many.  There is a risk of being swamped with requests that Lincolnshire is unable to fulfil and eventually disappointing partners. By focusing on a few sectors and specific projects which complement the County's strengths, Lincolnshire can help direct Hunan to the relevant businesses and organisations that are ready to work with China.
Education
The County's links with China can inject millions of pounds into the Lincolnshire local economy. It is estimated that each Chinese student spends approximately £14,000 in the local economy (excluding University fees). This figure is much higher than home students and other international students of different nationalities. The Chinese student market is therefore of importance to Lincolnshire and should have attention paid to it.
Agri-Tech and Water Management
As one of Lincolnshire's and Hunan's core strengths, the Agricultural industry, is a logical choice to build part of the regional relationship around. It is unlikely that much produce will be exchanged between the regions. The focus for this aspect of the relationship will be on advanced Agricultural Technology, an area where Lincolnshire has significant strengths and where Hunan has the demand. Another area that Lincolnshire will explore is land/water management.
Click on the button below to download the Lincolnshire County Council Hunan Report.