Personnel Advice & Solutions Ltd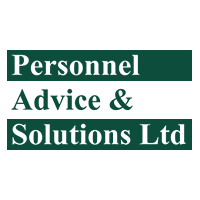 Business Services
Personnel Advice and Solutions Limited work with businesses to advise and guide managers in a variety of simple and more complex HR issues.
About Personnel Advice & Solutions Ltd
Essential Personnel Support and Advice for Employers, Business Owners and Managers

Personnel Advice and Solutions Ltd has been providing professional personnel and employment support to a wide range of organisations since 1995.

We can work with you to try and avoid HR problems arising, and to manage the risks to your business, which inevitably arise from employing staff.

Support Services
Being an Employer and keeping abreast of current employment legislation has never been more challenging. Mistakes can be costly and damaging, especially if they end up at an Employment Tribunal.

Many Employers are aware of this and recognise the need for specialist personnel advice when dealing with day to day HR and Employment issues.

We can provide support, either at your premises or via email / telephone, we also ensure that your documents and procedures are legally compliant, cover your obligations as an Employer and follow HR best practice.

We provide a package of Personnel support, including:

Updating Employment Contracts and all associated documentation
Recruitment and Selection
Managing staff Grievances
Disciplinary action and dismissals
Addressing staff sickness and absenteeism
Managing Redundancies and reducing employment costs
Restructuring and reorganisation of the workforce
TUPE transfers
Performance issues
Maternity / Paternity issues
Agency workers
Production of policies and procedures
Our upcoming event
Test your nerve with a SkyDive, for those living with Cancer!
Hope for Tomorrow are looking for extreme adventurers to take on a Skydive with #TeamHope.