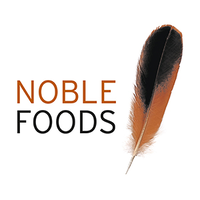 Food or Drink
Noble Foods are the leading supplier of fresh farm eggs to major retailers and have a poultry division in Gainsborough Lincolnshire.
About Noble Foods Ltd
In 1920, armed with nothing more than a straw-lined wicker basket and a horse and cart, William Dean started collecting eggs from smallholders and selling them door-to-door in and around Tring in Hertfordshire.
The business prospered and it wasn't long before William and his family were selling eggs into local grocery stores and supermarkets in the south. Deans Farms had a clear vision, seeing themselves as much more than simple egg packers, and it wasn't long before they expanded and began to acquire other companies.

The Deans' had a thirst for acquisition and innovation; in 1988 they bought Goldenlay, followed by Dell and Hardie in 1997 forming the business Deans Foods. The new millennium saw further acquisition with Daylay, then Freshlay joining the group.

In 2006 Deans Foods became Noble Foods and the portfolio expanded further. In 2010 Gü Puds joined the group and is now the number one brand in UK premium desserts. In November 2015 Noble Foods acquired Bowler Energy to form Noble Green Energy. The passion for innovation continued too, with Noble Foods launching the happy egg co. in 2009, which fast became the UK's leading egg brand.

Today Noble Foods is a leading national organisation that is intensely proud of its rich and vibrant history.

Noble Foods is the leading supplier of farm fresh eggs to the major retailers and we pride ourselves on an excellent nationwide service from our modern, well invested packing centres. We are also the market leaders in the UK for egg products and have a wide range of products that can meet the needs of small and large food businesses alike.

We also believe it's really important to innovate. That's why, in 2009, we launched the happy egg co. which is now Britain's leading egg brand. We haven't stopped there though; our family now includes Big & Fresh, Heritage Breeds, Purely Organic and Eggs for Soldiers. Together, we like to think they offer outstanding choice and value.

Each week we individually grade, pack and deliver over 60 million British Lion eggs for our customers.
Our Vision
Our vision is to advance our business by driving sustainable, profitable growth through the power of our people, services and partnerships and with our thirst for innovation.
We're on a mission; we're ambitious, we have a constant aim to be the best, to offer more, to extend our reach. We will take this attitude with us as we strengthen our business for the future.
Our upcoming event
ChamberConnect: How to Have Difficult Conversations Workshop
Free workshop presented by Phil Hutchinson of Lantern. Learn to communicate more effectively.