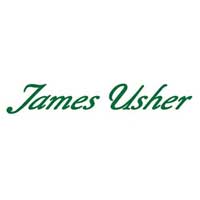 Retail Premises
James Usher & Sons Ltd is a watchmakers and jewellers situated in central Lincoln since 1837.
About James Usher & Son Ltd
The eponymous James Usher was founded in Lincoln High Street in 1837 as jewellers to the local gentry. There have been many moves since, including the most recent expansion in 1999 when the firm moved from Silver Street to join forces with John Smith & Son.

It was James Usher's son, James Ward Usher, who really made the firm's name with his flair for innovation and high local profile. In 1896 he founded the Lincoln Imp as a souvenir for the City, cleverly exploiting the idiosyncratic feature residing in the Cathedral choir. On a visit to the City the Prince of Wales, who would later become Edward vii, was presented with a Lincoln Imp stick pin by Mr. Usher. He was delighted with the gift and attributed to it his victories at the Epsom Derby and the Grand National later that year!

In 1916 James Ward Usher was appointed Sheriff of Lincoln. Such was his success that at his death in 1921 he bequeathed his considerable collection of clocks, watches, porcelain and miniatures to the City, together with a sum of £60000 in order that a museum and art gallery bearing his name might be built for the collection. In 1927 the Usher Gallery opened.

The company went through a number of changes of ownership until H L Brown of Sheffield bought it in 1973. Such is the resonance of the Usher name in Lincoln that it would be unthinkable to change the name of the shop to H L Brown. In 1974 Michael Bassett was appointed manager and he spent 26 years as a charismatic representative of Usher's. A keen recorder player, he is an active member of the Lincoln music scene and there is an Usher prize to this day at the Lincoln Music Festival.

Current manager Scott Ward, appointed in 2000, continues the tradition of loyal service and involvement in the community. He is a member of Lincoln Minster Round Table. He attends the Air Cadet Corps prize giving ceremony each year and presents the Usher Efficiency trophy to the best candidate, along with a silver Lincoln Imp badge which would no doubt please James Ward Usher if he were watching over us today.
Our upcoming event
ChamberConnect: How to Have Difficult Conversations Workshop
Free workshop presented by Phil Hutchinson of Lantern. Learn to communicate more effectively.