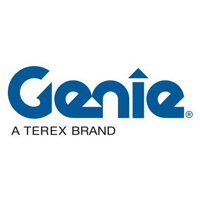 Manufacturing
Genie is a world leader in the production of material lifts, portable aerial work platforms, scissor lifts, and self-propelled telescopic and articulated booms.
About Genie UK Ltd
Our goal is to earn our customers' business with responsive support—delivered where and when they want it.

For more than 50 years, Genie has gone above and beyond in its product development efforts, focusing on what customers need to be successful in their industries and applications — Genie innovations change the market and set the industry standard for quality, reliability and safety in aerial lift equipment.

Genie Industries was founded in 1966 when Bud Bushnell bought the manufacturing rights to a material lift that operated on compressed air. Customers seemed to be impressed with the "magic in the bottle" that was used to raise and lower the hoist — and, the "Genie" name was born. With growing demand for material lifts and aerial work platforms, products such as man-lifts, stick booms, articulated booms, light towers and telehandlers have been added to the Genie® product line.

By the early 2000s, due to the economic downturn, the company decided to seek a partner that held the same values. Terex Corporation, with a history of acquiring equipment manufacturers worldwide proved a good match for the business. In 2002, Genie Industries was sold and became the Terex Aerial Work Platforms (AWP) segment of Terex. Due to its strength and reputation in the marketplace, all Genie machines continue to be sold worldwide under the Genie brand.

"From the very beginning, Genie has been working to develop products that solve our customers' worksite challenges — and that process never ends," says Matt Fearon, Genie President, Terex AWP. "Our team of product managers and engineers uses customers' input to design new products, featuring the latest technology to meet changing needs. We manufacture our products to stringent standards that help increase quality, lower costs and provide a high rental return on invested capital (rROIC)."

Today, Genie equipment is used in a variety of industries and applications worldwide, including rental, aviation, construction, entertainment, government and military, industrial, as well as warehouse and retail.

As a leading, global manufacturer of aerial lift equipment, Genie is dedicated to minimizing waste, improving quality, listening to customers and providing outstanding support long after the sale. These strategies have made Genie a trusted brand for decades and will keep taking customers and their businesses higher.
Our upcoming event
International Trade Operations and Procedures (ITOPS) Training
ITOPS is a certified course tackling all aspects of international trade administration.