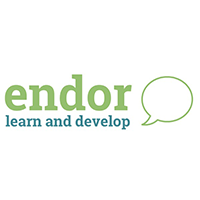 Practical ideas to extend the performance of people
Skills & Training
Endor Learn & Develop are a specialist training provider of behaviourally-based learning and development, with offices in Lincoln and Scunthorpe, providing award-winning transferable skills programmes since 2002.
About Endor Learn & Develop
Your learning partner
Welcome to Endor Learn & Develop. Our aim is to strengthen relationships in the workplace and beyond, by delivering practical ideas which people can relate to on a personal level. As specialists in transferable learning, we focus on supporting the core set of behaviours and abilities, most valued by today's employers. Practical skills which can be applied across a wide range of different jobs and industries, to build flexibility and extend performance in role.

Our goal is to create clear, informative and engaging learning which will help managers and their people to develop - accessible insights and shared experiences which can easily be transferred back into the workplace. We provide down to earth learning and development, with a strong emphasis on the implementation of new methods and techniques to improve productivity and enhance relationships.

What we do:
- Transferable work skills
- Employee engagement
- Management training and development
- Organisational behaviour
- Collaborative team working
- Facilitation and feedback
- Open learning programmes
- Personal development profiles
- Psychometric tests
- Innovative learning resources

Winner of the 'Best Business Training Consultancy' in the 2018 Regional Enterprise Awards

We are committed to delivering effective learning and development which creates impact. We work as professional partners to achieve your goals by providing an engaging and flexible service which is shaped by the latest approaches and innovative practices. All our experienced in-house consultants are members of: The Chartered Institute of Personnel and Development (CIPD) and the Chartered Management Institute (CMI). We are accredited to verify work for nationally recognised vocational standards and are able to assess for Chartered Management Institute awards. We are qualified to BPS level A and level B, to enable us to undertake psychometric testing and interpret occupational psychological inventories. We actively listen and constantly seek new and innovative ways to provide our clients with fresh and memorable learning solutions. Endor – from the Greek word 'endo' meaning 'from within'.

<Contact us
If you'd like to find out more about one of our carefully crafted courses, discuss a new project or just say hello, we'd love to hear from you. Drop us a line, so we can get in touch or give us a call to arrange an informal meeting. The kettle is always on.

web: https://www.endorlearning.com/
email: info@endorlearning.com
phone: 01522 837209


Our Vision
Endor's approach is built on the premise that the longest lasting messages are often the least complex. Our intention is to encourage all learners to explore the latest in applied people practices and effective ways of working, in an informal environment.
Our Mission
Our mission is to create an infectious enthusiasm for learning which will impact on performance and be transformed into long term commercial advantage. Organisations who select our award-winning programmes, see increases in engagement, efficiency and effectiveness.
Our upcoming event
Virtual Lincolnshire Construction and Property Network August
Digital networking event for the construction and property industry.