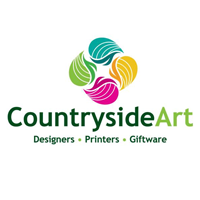 Home & Garden
Countryside Art are the UK's leading manufacturer of quality printed tea towels, bags, aprons, cushions and other perfect giftware, based in Spilsby.
About Countryside Art
Countryside Art are the UK's leading manufacturer of quality printed tea towels & giftware, based in Spilsby.

Countryside Art Ltd has over 40 years experience in textile printing and working from a state-of-the-art modern purpose built factory, equipped with the latest technology in a small rural market town in the Lincolnshire Wolds. We have become acknowledged experts in the field of quality and complex direct screen printing on to tea towels, aprons, bags, cushions and kitchen textiles.
Our company is unique in that everything is created in-house from design through print to final manufacture allowing our customers a degree of bespoke input not available elsewhere. Our very talented and experienced design team (including two of the best textile colour separators in the UK) offer a huge amount of input during the actual artwork stages of all our products. In addition, guidance from our very helpful Design Co-ordinator and Sales team allows the addition of lots of bespoke manufacturing features plus the ability to have products individually designed to your own specifications.
Our cotton is woven and finished to our specific requirements allowing us to maintain superb levels of quality plus ensuring our supply chain is both ethical and sustainable. Our large sewing unit is also fully equipped with all the latest technology including digital laser cutting. Then to further enhance your products we offer a wide range of attractive personalised packaging options which are designed and printed in-house.
We offer low minimum orders and fast delivery times, plus all our products pass through a rigorous quality control system ensuring you will be 100% satisfied with the quality of the work you receive. Our work is very popular and we have a great many loyal repeat customers so our lead times are sometimes longer than other companies. But the feedback we constantly receive is that our products are worth waiting for and the quality second to none.

In order to offer a complete range giftware options to our customers, we also produce a large range of mugs, melamine, paper products and garments (the mugs and melamine once designed are sent out for final manufacture to other UK companies working on our behalf). All these extra products can be designed to complement and co-ordinate with our tea towels and textile giftware.
Our upcoming event
ChamberConnect: How to Have Difficult Conversations Workshop
Free workshop presented by Phil Hutchinson of Lantern. Learn to communicate more effectively.