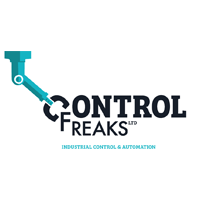 Manufacturing
Control Freaks Ltd based in Spalding design, build, test and install technical and intelligent industrial control and automation systems.
About Control Freaks Ltd
Welcome To Control Freaks Ltd
Control Freaks is a systems integration and electrical engineering company, based in Holbeach, Lincolnshire. We are highly specialised in the design and implementation of industrial automation and process control systems, including (but not limited to) electrical design, control panel manufacture, installation, programming & software, motion control, robots, networks, SCADA & MES, functional safety & machine compliance and servicing & maintenance.

Everything we do is bespoke!
We love a challenge and pride ourselves in bringing your ideas to life, while ensuring that our creations are well thought out, fit for purpose, safe, efficient, user-friendly and of the very best quality.

Discover our full range of services here>

For more information or to discuss your requirements call us on 01406 424282 or contact us via our details.

We also offer an emergency call-out service.

We're experienced
With over 30 years' experience of industrial electrical engineering, Control Freaks Ltd has grown to become one of the leading companies in the industrial automation arena.

We've worked hard to build a reputation as one of the most trusted custom creators of automated systems and work closely with a variety of major manufacturers. What's more, we are a trusted and well-respected Mitsubishi Electric partner.

Our systems may be highly technical, but we ensure they're simple to operate. To us, it's all about the user's experience and we very much care about the detail. We always strive for the utmost quality and longevity of the systems that we create.

Find out more about our clients here>>

Our services
Our outstanding service and ability to exceed customer expectations is something we pride ourselves in. We have state of the art equipment, a dedicated workshop facility and the capabilities required to complete your project to the highest standard. Whats more, we're not afraid to get our hands dirty!

We undertake individual services such as design, programming and panel building. And, we can also provide a full turn key solution. We always aim to ensure work is completed on time and with minimal disruption.

We provide a wide range of services to enable companies to become more efficient, productive and cost effective through strategic investment in technology.

Having been in the industry for a long time we have a lot of experience with legacy equipment and offer unrivalled upgrade and obsolescence services.

Find out more about our services here>>

Our staff
Originally from the North East of England, Founder of Control Freaks, Clint Johnson, has worked within a wide variety of environments and industries. He has a detailed understanding of engineering, including mechanical, electrical, hydraulic and pneumatic.

During his career he has worked for major manufacturing companies in high paced environments and therefore understands their perspective and requirements completely.

Our engineering and administration staff are all suitably qualified and are up to date with the latest standards and technologies. Our team ethos is that quality always comes first.
Our upcoming event
FREE Post EU Exit – Building your Business Resilience – Lincoln
Learn what your business should be doing to prepare for Brexit after the transition period.
Feb 25th 2020
7:30 am - 10:30 am

Commerce House, Carlton Boulevard, Lincoln, Lincolnshire, LN2 4WJ
Book Your Tickets
Members offer
Bands For Hire – 5% discount
Bands For Hire are one of the UK's leading live music agencies, representing over 400 acts across the UK, see the website: www.bandsf...
Find out more