Attracted by the mild, sub-tropical climate and miles of white sand beaches, 946,848 people have made Pinellas County their home.
With an average 360 days of sunshine each year and beaches ranked among the best in the U.S., the county is also the most popular tourist destination on the Gulf of Mexico, drawing nearly six million tourists annually.
As an established county, the significant infrastructure – including schools, utilities and roadways – is already in place. Pinellas is also well connected with regional access provided via Interstate-275, two international airports, and the largest port in Florida.
Pinellas' diverse communities range in population from more than 252,000 in St. Petersburg (St. Pete) to slightly more than 100 in Belleair Shore, and nearly all capitalize on living in a waterfront paradise.
Economic Profile
Pinellas lies at the center of the robust Tampa Bay market, which is expected to grow from its current population of 4 million to 6 million by 2030.
The market's significant economic clout is also evidenced by more than $70 billion in consumer spending and a labor force 2 million strong.
The region is ranked number 20 in the U.S. for job growth and carries the country's 13th largest media market
The Ideal Business Climate
Anchored by the urban markets of Clearwater and St. Petersburg, Pinellas has the second largest base of manufacturing employment in Florida. Fortune 500 technology manufacturers Jabil Circuit and Tech Data are headquartered here. Pinellas has diverse, yet symbiotic, industry clusters, including aviation/aerospace; defense/national security; medical technologies; business and financial services; and information technology.
An extensive network of suppliers, service-providers and business associations support operations in these sectors. Relocating businesses can move to Pinellas and expect to begin growing immediately.
Pinellas encourages innovation, and with industry giants Home Shopping Network (HSNi), Nielsen, ValPak and Catalina Marketing, it is rapidly becoming Florida's hub for big data. Through relationships with major universities and high-tech institutes, Pinellas has become a center for research and development in marine science, electronic instruments, medical devices, sensors, nanotechnology and health care.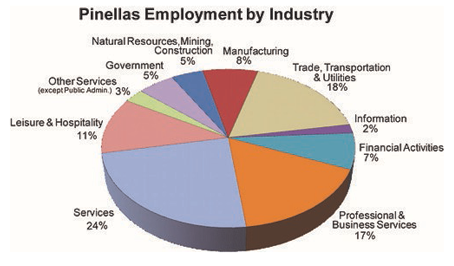 The county is home to numerous business accelerators, like the Tampa Bay Innovation Center, TEC Garage, the Gazelle Lab and Clearwater's SPARK, which are committed to nurturing and building new ventures.
Meet St. Pete
City population: 259,906
• Total MSA population: 2,975,225
• Regional workforce: 1,443,777
• Median age: 41,8
• Average household income: $67,283
• Median single family home: $235,000
• Condo/townhome: $156,000
• Cost of living index: 94
• Top five metros for Job Growth– Bureau of Labor Statistics, 2017
10 Reasons to love St. Pete
Top 25 Best Towns in America – Outside Magazine, 2017
• America's Hottest City – Huffington Post, 2016
• 3rd Best Beach in U.S. – TripAdvisor, 2017
• #1 Arts Destination for Mid-Size Cities – AmericanStyle Magazine, 2017
• Three Pro Sports teams and 365 of outdoor recreation
• 11 miles of waterfront parks
• Booming residential development
• Top-rated universities, including University of South Florida St. Petersburg