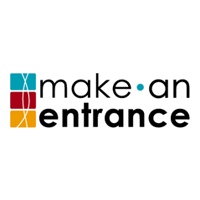 Retail Online
Make An Entrance in Lincoln is a family run business with over 30 years experience in making and selling custom doormats.
About Make an Entrance Limited
Make An Entrance is a family run business with over 30 years' experience in making and selling all types of doormats.

Quality and craftsmanship are our focus and ensure that our products stand the test of time. Our offices are based in Lincoln but we deliver right across the UK.
For businesses our selection of logo mats is very impressive and we offer an express service if you are tight on time for an opening or launch event. Our dedicated business team is here to answer any questions you may have. Choose from Coir Logo Mats, Printed Carpet Logo Mats, or Outdoor Logo Mats at very competitive prices.
For immediate dispatch, our off-the-shelf range is always in stock but we can also make something totally bespoke. Personalised Doormats always make unique and thoughtful gifts. Talk to us about your ideas and we'll make them.
Our traditional made to measure hand stitched doormats are still made as they have been for generations. Our craftsmen individually hand stitch the edges and can make whatever size you need (we have even made them big enough to cross a road!)
Cut to size coir matting is our specialty; we offer 3 different grades, 4 thicknesses and numerous colours too. We even have an ultra-thin synthetic version that is only 12mm thick.
Whatever type of mat you need, browse online or simply call to talk to us. We have a highly trained customer service team waiting to take your call and we're here to help.
Our upcoming event
Santander Celebratory Event
The event will showcase the stories from a number of individuals who have been supported by Santande...
Jan 30th 2020
1:00 pm - 2:30 pm

Think Tank, University of Lincoln, Lincoln, Lincolnshire, LN6 7FL
Book Your Tickets
Members offer
Make an Entrance Limited – 10% Discount
Call to place your order on 020 8819 5869 and quote your Lincolnshire Chamber of Commerce membership number to save 10% off your order....
Find out more