Lincolnshire Refugee Doctor Project CIC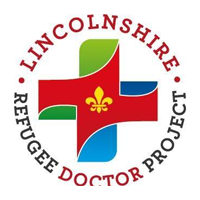 Skills & Training
The Lincolnshire Refugee Doctor Project has been set up to support doctors and their families as they settle in Lincolnshire after seeking refuge.
About Lincolnshire Refugee Doctor Project CIC
There are thought to be at least 500 doctors in the UK who are refugees.

Many find it too difficult to pass the language exams or to have their experience recognised to work in the NHS, and they take jobs which don't require qualifications.
The project, which is similar to projects running elsewhere – London, Glasgow, Manchester, Cardiff, Stockton – provides both humanitarian support to refugees who happen to be doctors, and provides opportunities for them to retrain to work in the NHS.
We work with both Health Education England and the local NHS trusts across Yorkshire, the Humber and Lincolnshire, and with local third sector organisations to provide help with:


welcome


housing


benefits


transport


liaison with schools


mentoring


further education


help with exam preparation


help with General Medical Council registration


clinical placements


family support


We hope that our commitment to them will mean that Refugee Doctors will feel welcome to stay on in our area once they are allowed to work in the NHS.



We would welcome support from other organisations who possess expertise in areas such as law, fundraising, infrastructure, HR and so on. We are presently reliant on NHS bodies providing those functions on a goodwill basis.
Our Vision
The Lincolnshire Refugee Doctor Project has three main aims:

To recruit Refugee Doctors to Lincolnshire, to support them within the community here, to provide them with the skills and knowledge required to satisfy examination in Language and Clinical Skills, and to allow them to practice safely as medical practitioners in the UK.

To give Refugee Doctors a meaningful experience of being valued in the health community of Lincolnshire.
Our upcoming event
Virtual Lincolnshire Construction and Property Network August
Digital networking event for the construction and property industry.