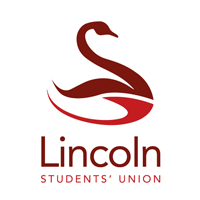 Education
The Union for the University of Lincoln, established in 2007. Quality, Strong, Approachable, Nurturing, Honest, Dynamic.
About Lincoln Students' Union
Originally established in 2007, the University of Lincoln Students' Union is an independent charity organisation that puts students experience at the heart of everything we do. From the time that you arrive as a new student at the University, all the way through to when you graduate (and even beyond), we are here to make sure that your time in Lincoln is the best that it can possibly be.

We achieve this through a number of support services, events, and campaigns that run throughout the year, covering everything from our sports and societies, to volunteering and employability opportunities, to democracy and lobbying to make positive changes right here on campus.

If there's something you feel we should be doing that you're not seeing, then get in touch! We have a whole host of channels where you can get invovled in what we're doing and make sure that your voice is heard.

Everything that we do at Lincoln Students' Union is guided by our six key values:

Approachable, Honest, Dynamic, Nurturing, Quality, Strong
Our Vision
Our vision is to be the Union where every Lincoln student has a great experience and is encouraged and assisted to fulfill their potential both at University and in life.
Our Mission
To help all students have a memorable, enjoyable and successful time at Lincoln. We will work with our students to be an important part of their social, academic and working life by providing support and representation to all that need it.
Our upcoming event
FREE Post EU Exit – Building your Business Resilience – Lincoln
Learn what your business should be doing to prepare for Brexit after the transition period.
Feb 25th 2020
7:30 am - 10:30 am

Commerce House, Carlton Boulevard, Lincoln, Lincolnshire, LN2 4WJ
Book Your Tickets
Members offer
Bands For Hire – 5% discount
Bands For Hire are one of the UK's leading live music agencies, representing over 400 acts across the UK, see the website: www.bandsf...
Find out more