Lincoln Print and Copy Centre Ltd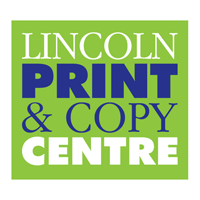 Design & Print
Lincoln Print and Copy Centre have been helping individuals, charities and businesses with their cheap printing needs since 1979.
About Lincoln Print and Copy Centre Ltd
Lincoln Print and Copy Centre located in the heart of Lincoln, has been offering printing services since 1979.

We are located in the heart of Lincoln with easy access and free onsite parking. Our customers are local, regional and nationwide and receive a bespoke delivery service to ensure that all products arrive in their best condition.

All of our customers having differing needs, we make what we do fit their requirements. We love a challenge and the variety of work we are asked to do. From straight forward to complicated orders and timescales with tight deadlines, to jobs that need creative solutions, our customers have given us some complex challenges over the years. From none-standard sizes to complicated brochures with fold-out pages to A0-sized scanning and resizing. We like to solve problems not only quickly but for a good price, and we solve them well.

We do so much more than printing – we solve problems, while creating something attractive and stylish.

Do you want to enlarge something by 300%? We can do that.

Do you want to build a custom book full of fold-out pages and different paper weights? Let's do it.

Do you want 2 copies of that, 22 copies or 222 copies? It doesn't matter to us – we'll make it happen.

What about having your prints on waterproof paper? It is tear proof, oil & greaseproof, foldable and rollable, and available from A4 to A0 size.

Our roller scanner can scan pages that are up to 3 metres wide, our dry-ink toner won't run when wet, and our in-house design team can design everything from entire brochures to a single logo.

Whatever you need, we'd love to help, and our prices are better value than big-brand stores too.

There is no job too big or small for our machines, so please get in touch and see how we can help you
Our upcoming event
In conversation with The Governor of the Bank of England, Mr Andrew Bailey
Find out what the end of the transition period and the turbulence of 2020 mean for the economy.