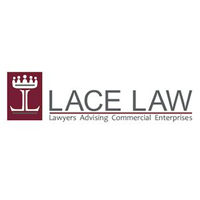 Legal
Lace Law Limited in Newark Lincolnshire are lawyers specialising in advising commercial enterprises and the business community.
About Lace Law Limited
Lace Law Limited are lawyers specialising in advising commercial enterprises whether it be a limited liability company; a community interest company; a partnership; a charity or a sole trader.

We are very proud to be different - we aim to provide real world commercial advice not just advice based on lawyer's theories. Our advice is based on our own experiences within a business environment which enables us all to really understand the day to day issues you and your own business face.
With your business life being ever more heavily regulated our lawyers strive to build a relationship with you; we simply become a trusted advisor who seeks to avoid jargon and one who adds value to your business by also becoming a good 'sounding board' for your day to day issues.
Our core aim is to provide a service that you want. This means providing flexibility for our lawyers in the systems and technology we use and the service provided to you as the client is then measured against the benchmark of 'is the client truly happy with the service they receive?'
The five guiding principles to the service we provide are:
-Trust
-Integrity
-Empathy
-Innovation
-Less Jargon
We offer legal services covering:
* Commercial Property
* Commercial Leases
* Construction and Development Contracts
* Company Law
* Commercial Contracts and Agreements
* Business Sales and Acquisitions
* Corporate Employment
* Corporate Finance
* Employment
* Commercial Disputes
* Consumer and Contract related cases
* Commercial Debt Recovery
* Commercial and Civil Mediation
* Work Place Mediation
For more information on how we could help, contact us now.
Our upcoming event
International Trade Operations and Procedures (ITOPS) Training
ITOPS is a certified course tackling all aspects of international trade administration.