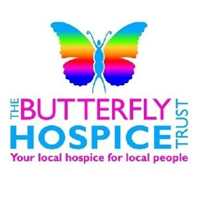 Health Care & Care Services
The Butterfly Hospice in Boston provides palliative care and holistic support to life-limiting illnesses, offering 24 hour support.
About The Butterfly Hospice
Supporting local people requiring hospice care.

The role of the Butterfly Hospice, based in Boston, Lincolnshire, is to provide palliative care and holistic support to patients and their families, working in partnership with local health providers and the local community.
working in partnership with Lincolnshire Community Health Services NHS Trust and the local community.
The Butterfly Hospice Trust is dedicated to improving the quality of life for patients and families facing a life-limiting illness by providing choice, care and support in a Hospice setting.
When you or someone you care about is seriously ill, you want to know they're getting the best possible care and treatment. We do too. Our hospice provides free 24-hour patient care to those who need it most.
Our services are for people aged 18 and over that are referred to us by a healthcare professional.
Our care teams include doctors, nurses, therapists, and spiritual support. It is our aim to provide the best possible, personalised care 24 hours a day for the duration of someone's stay. The unit is staffed by a clinical team with specialised skills in dealing with the physical and emotional effects of life limiting illnesses including cancer, heart disease and neurological conditions.
We aim to enrich people's quality of life by relieving symptoms such as pain, breathlessness and other distressing problems through the skills of our experienced and caring teams. Our patients come to us for respite, symptom control and for care at the end of life.
Our upcoming event
International Trade Operations and Procedures (ITOPS) Training
ITOPS is a certified course tackling all aspects of international trade administration.